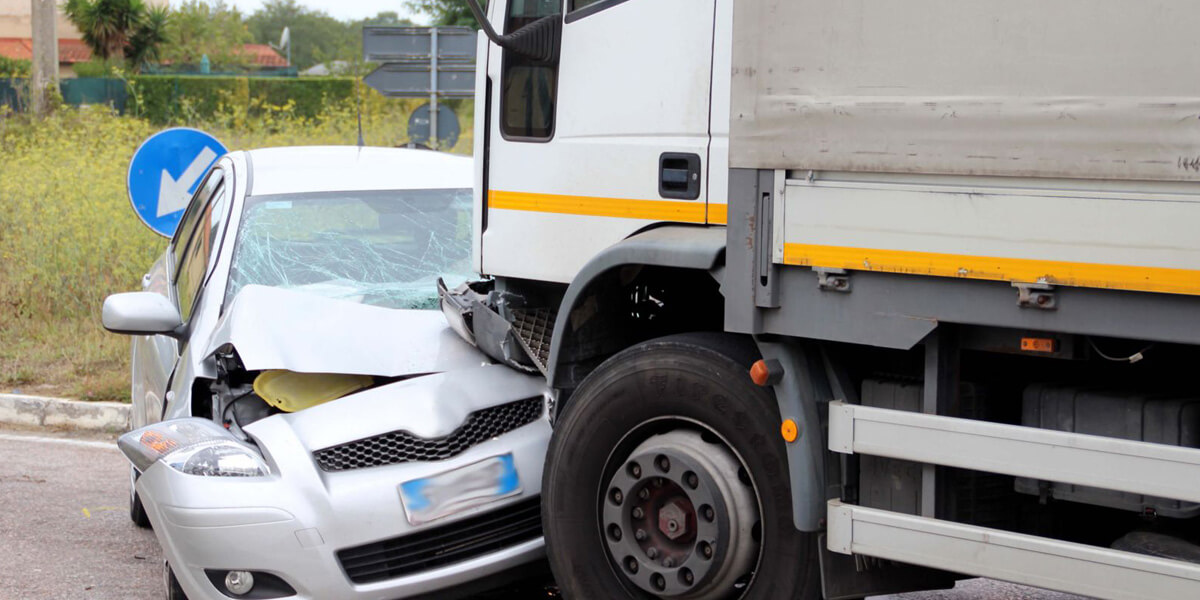 Every time you get behind the wheel, you probably pass by several, maybe even dozens of company vehicles. California roads are filled with commercial vehicles—from neighborhood delivery trucks operated by Amazon, UPS, or FedEx to large tractor trailers owned by some of the nation's biggest trucking companies. While these businesses have a legal responsibility to ensure that their drivers are trained and their vehicles are safe, company car accidents remain a serious problem. This raises an important question: What should I do if my car was hit by a company vehicle? The short answer is that you should stop your vehicle, exchange information, report the crash, seek medical attention, and call a California car crash lawyer before you speak to an insurance company representative. In this post, our Placer County motor vehicle accident lawyer provides a more detailed explanation about the most important things you should know about company vehicle accidents in California. Company Vehicles Accidents are a Highway Safety Threat Company vehicles are often operated by professional drivers. We expect these drivers (and their employers) to take proper safety protocols. Unfortunately, that does not always happen. Quite the contrary, company vehicle accidents are a significant safety hazard on our roads. Some of the most common reasons why serious delivery truck/company vehicle accidents occur include:
Trucks of large size & that are difficult to maneuver;
Untrained or undertrained drivers;
Delivery drivers speeding to meet tight deadlines;
Frequent stops by delivery drivers;
Distracted driving;
Intoxicated driving;
Company vehicle defects; and
Inadequate/improper maintenance by the company.
The National Institute for Occupational Safety and Health (NIOSH) reports that more than 1,000 U.S. workers are killed in company vehicle accidents every year. Motor vehicle accidents are the first or second cause of death in virtually every industry. Tens of thousands more people—including other motorists, passengers, pedestrians, and other people not on the job—suffer serious or catastrophic injuries in company vehicle accidents. Whether you were hit by a major delivery company (Amazon, UPS, FedEx, etc.), a big commercial trucking company, or simply a company driver in a passenger car, you need to know how to protect your rights. What to Do After a Company Vehicle Accident: An Amazon/Fedex/UPS Truck Hit My Car Knowing that delivery trucks, semi-trucks, and other company vehicles present a safety risk, it is imperative that you know how to protect your rights after an accident. Even if you do everything right to avoid collisions, there is still a chance that a semi truck hit could hit your car or you could otherwise be involved in a significant crash. Here are five steps to take to put yourself in the best position to bring a successful injury claim from truck accident: Get Immediate Emergency Medical Care: Medical emergencies require immediate attention. If you or your loved one was severely injured in a company vehicle collision, get an ambulance to the nearest emergency room. Non-emergency injuries should also be evaluated by a doctor. Protect your health. Report the Company Vehicle Accident to the Police: In California, any commercial vehicle accident that resulted in an injury or major property damage must be reported to law enforcement. A state or local officer will be dispatched to help control the scene and write an official crash report. The police report is an important form of evidence. Be sure to request your own copy of the official crash report. Document as Much Information as Possible: In California, company vehicle accident claims are fault-based legal cases. To hold a company liable, you must prove that their negligence (or their employee's negligence) contributed to the crash. As explained in the Judicial Council of California Civil Jury Instructions, negligence is the failure to use reasonable care to prevent harm to others. The more evidence and information you have, the easier it will be to prove the company's negligence. Evidence may include your testimony, eyewitness contact information, photographs of the crash damage, the identity of the company vehicle driver, the license plate of the commercial vehicle, and the name of the employer. Do Not Make a Statement to the Insurance Company: Commercial vehicle accident cases are almost invariably defended by big insurance companies. An insurance adjuster is not on your side. They are building a defense. It is their job to find information that they can use against you. Among other things, this may include taking your words out of context. To protect yourself, avoid making a statement. Get Help From a California Company Truck Lawyer: The best thing you can do after a company vehicle accident in Northern California is schedule a free, confidential consultation with a California car crash lawyer. Injured victims do not have to go up against delivery companies, trucking companies, or insurance companies alone. Your California car crash lawyer will review your case and tell you the next steps that you need to take to get justice and compensation. You Deserve Full Financial Compensation for Your Injuries In California, motor vehicle accident victims are entitled to financial compensation for their damages. Trucking companies, delivery companies, and other commercial vehicle operators do not make the claims process easy. They are represented by aggressive insurance companies that are looking to settle a claim for the lowest amount possible. At McCrary Accident Injury Law Firm, our California car crash lawyer has the skills and experience to help you maximize your settlement or verdict. Depending on your case, financial compensation may be available for:
Ambulance fees and emergency room care;
Medical bills and other expenses;
Physical therapy and mental health therapy;
Loss of current and future earnings;
Pain and suffering;
Long-term disability; and
Wrongful death damages.
How Rocklin, CA Auto Accident Lawyer Dan McCrary Can Help Company vehicle accident claims are complex. After a commercial vehicle accident, you need a plan of action. The company and its insurers will certainly have one. As a personal injury litigation professional, Dan McCrary, Esq has more than a decade of experience working on behalf of insurance companies. He possesses a deep understanding of their tactics and has switched sides to fight for people who need help the most. When you call 855-PLANDAN, you will have a chance to consult with a Placer County company truck accident lawyer who can:
Comprehensively review your commercial vehicle crash case;
Answer your questions and explain the next steps in the process;
Investigate the collision—securing the important evidence; and
Take aggressive action to get you justice and full financial support.
Every company truck accident claim is unique. You need a personal injury advocate who will put in the time, resources, and get you the best possible results, We provide personalized representation to injury victims and their families. As the McCrary Accident Injury Law Firm represents injured victims on contingency, you never have to worry about upfront or out-of-pocket costs. Our law firm only gets paid when you get financial compensation for your injuries. Contact Our California Commercial Vehicle Accident Attorney Today At McCrary Accident Injury Law Firm, our California car crash lawyer has the skills and experience to represent you in complex commercial vehicle collision claims. If you have any questions about what to do after a collision with a company truck, we are here to get you answers. Contact our legal team now at 855-PLANDAN for a free, fully private review and assessment of your company truck accident claim. With a legal office in Rocklin, we serve communities throughout the region, including in Placer County, Nevada County, Yuba County, Sierra County, and El Dorado County.