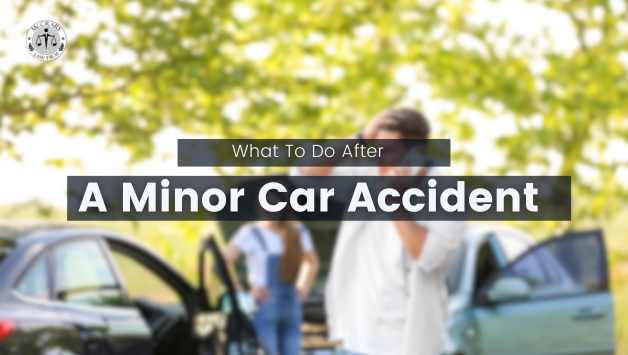 Personal Injury Lawyer: What Do They Do?
Every day, around 20,000 car crashes happen in the United States, and many of them are minor accidents. These little accidents might not seem like a big deal, but they are, and you should take them seriously.
After all, it's a matter of human life; even a small injury can lead to big difficulties. This is why it's important to know what steps to take right after a minor car crash to protect the victim, stay safe, and make things go smoothly in a legal way.
Hence, be with us till the end of this guide as we'll discuss your safety and the well-being of everyone involved, and understanding the legal side of things is crucial. So, let's get started on this journey together.
What's A Minor Car Accident?
First, you should understand what a minor car accident is. In simple words, a car accident that doesn't cause big chaos, including serious threats to human life and a loss of property (vehicle), is a minor car accident.
Remember, this type of minor accident happens by mistake when your car speed is usually low. Minor accidents don't cause major injuries on any part of the body or significant damage to the cars. And in most cases, the vehicles can still be driven safely after the accident.
If you ever encounter this type of accident, not a major one, that results in small injuries, you need this guide. Here, we'll discuss what steps to take and what information to gather after a minor car accident to avoid legal problems.
Steps To Take After A Minor Car Accident
Here are the six steps you need to take after a minor car accident. Make sure to go through all points; this is the only way to protect yourself from lawsuits.
1. Don't Panic & Ensure Safety
The first and most important step is don't panic. Most of the time, victims of accidents panic instantly, and it's understandable, but remember, it will cause more harm than benefits. The only way to protect yourself is to be as calm as you can.
Take a few deep breaths and analyze how you're feeling and whether you're able to move your hands, feet, and other body parts. Once you're sure everything is well, move your car to the safe side of the road till the police come.
2. Check Yourself & Other Person
After coming out of the car and parking it on the safe side of the road, check yourself and the other person for injuries. If you or the person in the vehicle is hurt, even if it's a small injury, call 911 immediately for medical help.
Then, find a secure place on the side of the road and sit there until you get appropriate emergency services. Once the medical team comes, tell them about your health condition and how you felt in detail.
3. Call Police & Local Authorities
Don't forget to call the police or any other local authorities. This is an important part that can protect you from upcoming legal challenges and the cost of the vehicle and medical emergency with the help of insurance money.
The police officials will create an official accident report, including all accident details, like the car's and owner's situation. The report can be useful in many ways like you can use it as proof in court (in case of a lawsuit).
Till the police arrive, gather information so you'll have proof in case of any legal suits. Capture the damage to the vehicles, the license plates, what the road looks like, and any traffic signs around to avoid legal issues.
If there were people who saw the accident happen, get their contact information. Their accounts of what they saw could be helpful if there's a disagreement about what happened on the road.
Stay calm and be polite during the whole situation. Don't point fingers or argue with the other driver. Any dispute on the crash location can easily create a big issue. If the situation is serious and the other party is behaving inappropriately, contact the police.
Let the insurance companies come, and let the lawyer sort things out if needed. You can also contact the car accident lawyer of McCary Law Firm . All you need is to place a request & we can hop you on the call, and it's FREE of cost.
6. Inform Your Insurance Company
In the end, contact your insurance company to inform them about the accident, even if you don't plan to ask for money to fix things. The insurance company can help you determine what to do next and ensure you follow the right steps.
Frequently Asked Questions
What to do after a car accident is not your fault?
The first thing to do after a car accident that's not your fault is to ensure you and the other person involved in the accident are fine. Afterward, check the loss of the vehicle and take pictures to gather proof. Call 911 for medical emergencies and police to report the accident.
Should I get a lawyer for a car accident that wasn't my fault?
If the accident is severe, you must call the police and your lawyer for the accident, even if it's not your fault. However, in minor accidents, people usually sort out the issue without involving any lawyer.
Is it important to report to the police after a minor car accident?
Yes, it's important to report to the police, even if it's a minor accident. Police will examine the area, the loss of the car, and whether someone is injured or not. The police report will help defend you in case of a lawsuit.
Now, since you know what to do after a minor car accident, make sure to follow all points. If you think you can't follow an important step because the other part involves legal authorities right away from the beginning.
Sometimes, insurance companies also create problems and try to find ways to offer the least amount. If it's happening to you, contact a lawyer to sort out the issue with the insurance company and pay the cost of the damaged car and medical bills.
FREE CONSULTATION 24/7, NO FEES UNTIL WE WIN .
Call or Text Us Now (855) 752-6326